Thanks for your interest in NCSU Pipes & Drums. Band membership consists of both NCSU students as well as community players. This mix has created the solid foundation for over 50 years of performing and competing while allowing for new players to blend into the band.
The band meets on Tuesday nights from 6-9 pm at Dorothea Dix Park near the sunflower field and cemetery. Beginners meet from 6-7 and are welcome to stay after. We also are currently offering online ZOOM sessions for Bagpipes only. If you are interested in drumming lessons we can connect you with drumming instructors on-line.
Please contact Darrell Thompson at curidin@earthlink.net for more detailed information.
Beginning Bagpiping
The Bagpipe class at NC State has changed to a student organization that will be meeting Wednesday nights on-line using ZOOM. We will begin on Jan. 12th, 2022 from 7:30-9:00 pm. Interested students should contact Darrell Thompson for the ZOOM link at curidin@earthlink.net
A student begins learning on a 'practice chanter' before they attempt full pipes. Once on full pipes the student can advance into the band.
If you are committed to learning the Bagpipe you will need to purchase a practice chanter. Look for a Dunbar or a Gibson practice chanter. They run about $80. Included below are links to those. Avoid Practice Chanters that are cheaper than this as they are difficult to play, not made well, and don't tune with what the rest of the band plays.
Dunbar Regular Practice Chanter
Gibson Long Practice Chanter
Experienced Pipers and Drummers: If you are an experienced player and are interested in learning more about joining the band, we would love to talk with you. We practice on Tuesday nights near campus in Raleigh, NC from 7-9pm.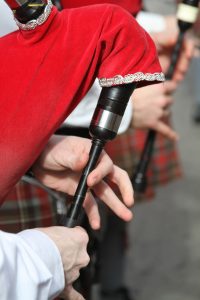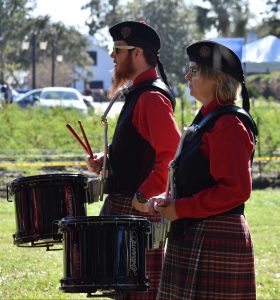 Already a Drummer? Snare drummers with experience in the rudiments of drumming will be taught the Scottish style. Tenor and bass drummers should have a natural sense of rhythm.
Please contact Darrell Thompson at curidin@earthlink.net if you're interested in joining the band.