HISTORY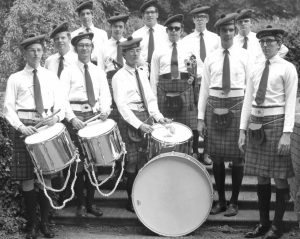 In the fall of 1968, Ted Tonkinson, an NCSU graduate student, ran a small ad in the Technician seeking those interested in forming a bagpipe band. Among those responding to the ad was another graduate student, Bob Howland, both an accomplished piper and an experienced percussionist. Together, they started the NCSU Pipes and Drums as a student activity.
In 1977, the band opened up to people from outside the University which allowed several strong alumni pipers to continue playing. Under the leadership of John Sprague, the numbers rose from one band of 12 musicians in 1977 to three bands (Grades III, IV, and V) of 42 musicians by 1997. During this period, the band was a consistent winner on the competition circuit. In 2005, the City of Oaks Pipe Band merged with the NCSU Pipes and Drums, forming one strong band for the triangle area.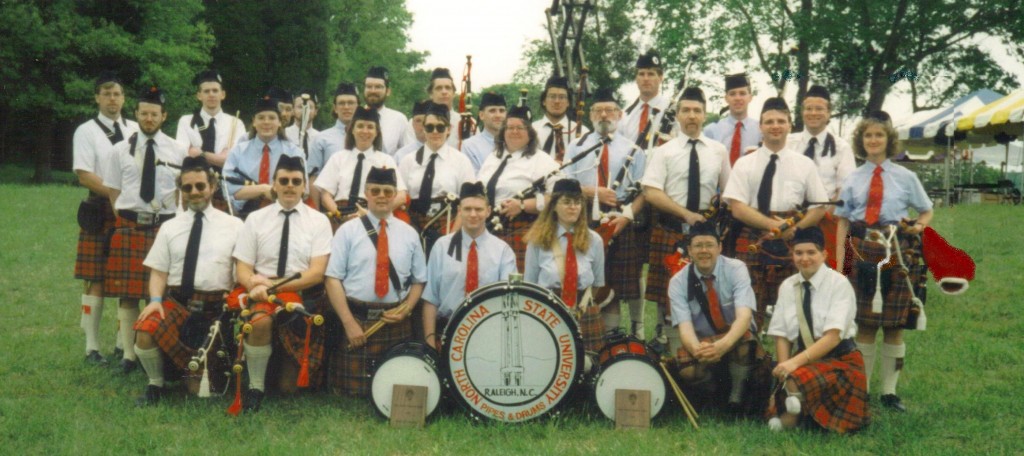 By 2012, the band was made up of 50% students and NCSU alumni and 50% community members. It consisted of about 60 musicians, divided amongst four groups: a beginning chanter class; a performing group that did not compete; a Grade IV band; and a Grade III band. The competing bands entered 7 to 8 competitions each year at highland games. John Sprague retired from his role of Director at the end of 2012 after 35 years of dedicated service.
Currently the band is under the leadership of Pipe Major Ken Hanson and Band Director Darrell Thompson. The band competes in Grade V at several Highland games, marches in parades and plays concerts at various venues through out the year. Check our events calendar to come listen to the band.
BAND LEADERSHIP
Band Directors
1968-1970 – Ted Tonkinson
1970-1977 – Bob Howland
1977-2012 – John Sprague
2013-present – Darrell Thompson
Pipe Majors
1968-1970 – Ted Tonkinson
1970-1977 – Bob Howland
1977-1986 – John Sprague
1986-1991 – Joseph Seibert
1991-2006 – Howard Sanford
2006-2008 – John Sprague
2008–2011 – Steve Fisher
2011–2012 – Jerry Finegan
2006-2021 – Ken. Hanson
2022-present – Darrell Thompson
Drum Sergeants
1984-2012 – John Sprague
1986-1992 – Billy Payne
1992-2008 – Price Oman
2002-2005 – Logan Buck
2008-2010 – Carter Neely
2010-2011 – Brian Deimling
2011-2019 – Julie Southwick
2019-present – Colin Lee